Argentina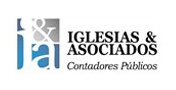 Founded in 1987, Iglesias & Asociados is a public accounting firm comprised of more than 30 highly qualified professionals in the field of economics.
The services offered by Iglesias & Asociados have a unique style, which has as its main goal efficiency through the highly skilled group of professionals that comprise the organization and the personalized attention given to their clients. The firm has been trained and prepared to perform work in the areas of audit, accounting, tax, and payroll.
Always keeping in mind the complexity of the current reality, the firm possesses a distinct specialization that makes possible the resolution of each case they are presented.