Chile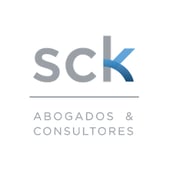 SCK Abogados & Consultores Tributarios
Los Militares 5001 – Oficina 402
Las Condes, Santiago, Chile
Tel: +56 2 241 9000
Email: contacto@sck.cl
Website: www.sck.cl

SCK Abogados & Consultores Tributarios is a firm specialized in offering a complete range of tax consulting services for individuals and companies. We have an interdisciplinary team of attorneys and certified public accountant experts in their field. Our partners, who have extensive experience in international audit firms, provided the framework to create a consolidated team focused on excellence and client service.
The firm primarily specializes in the areas of tax consulting, tax compliance, foreign investment, transfer pricing, mergers and acquisitions, tax litigation and individual tax assistance.
With more than fifteen years of experience as advisors in local and multinational companies in different areas within the tax practice and a professional culture centered on adding value through personal attention, SCK Abogados & Consultores Tributarios offers their clients the experience of high-quality service focused on the specific requirements of their business.