Colombia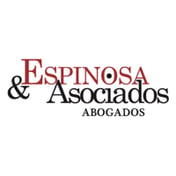 Founded in 1995, Espinosa & Asociados brings together a group of professionals with more than 20 years of experience in the fields of consulting and young professionals and associates with highly qualified training.
The firm has the fundamental business philosophy of providing professional counsel led and performed directly by its partners, giving priority to achieving practical results, previously defined based on the particular needs of each client, through the involvement of an interdisciplinary team of professionals. This allows them to offer truly integral legal advice, with a global vision, tailored to individuals, family groups, national and international companies, investors and financial groups.
We make our clients' objectives and goals our own, aligning and working together with them to make up a single team, focused on following a strategy and achieving previously identified goals. This method has allowed us to build important ties, which has led us to work with clients from the most diverse fields, including capital investors, family companies of family origin, companies from the insurance sector, large chain stores, groups of investors involved in different economic sectors, companies from the industrial sector, entities from the financial sector and companies with Government capital participation, amongst others.