Russin, Vecchi & Heredia Bonetti
Dominican Republic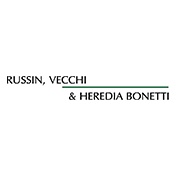 Russin, Vecchi & Heredia Bonetti
Santo Domingo Office
Calle El Recodo # 2,
Monte Mirador Building, 3rd Floor, Bella Vista
Santo Domingo, Dominican Republic
Tel: +809 535 9511

Puerto Plata Office
Av. Luis Ginebra,
Plaza Turisol No. 11-A
Puerto Plata, Dominican Republic
Tel: +809 586 5535

Email: info@rvhb.com
Website: www.rvhb.com/en

Russin, Vecchi & Heredia Bonetti (RV&HB) is an international law firm founded in 1969 with a global vision of the practice of law, committed to the excellence in service, innovation, and high ethical standard.
The firm is recognized as the pioneer in the practice of business law of the Dominican Republic, with experience in all the legal aspects associated with foreign investments and doing business in the country. The firm is also well known for its contribution to the improvement of the business climate and its support to the continuing education of legal professionals.
With its main office located in Santo Domingo and a branch in Puerto Plata, RV&HB has formed strategic alliances with a network of law offices in the major cities of the Dominican Republic.
Internationally, the firm has affiliated offices in the cities of Bangkok, Hanoi, Ho Chi Minh City, Moscow, New York, Taipei, Vladivostok, Washington D.C. and Yuzhno-Sajalinsk.
Chambers & Partners has classified Russin, Vecchi & Heredia Bonetti as one of the leading law firms in the Dominican Republic, and for the third time, second consecutive, the firm has been included in the shortlist of firms nominated to receive the Chambers Latin America Awards 2015 as Dominican Republic Law Firm of the Year.