ILP Global – Gallegos, Valarezo & Neira
Ecuador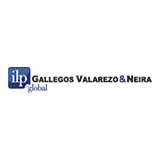 ILP Global – Gallegos, Valarezo & Neira
Luis Tamayo N24-33 y Alfredo Baquerizo Moreno.
Plaza corporativa torre del Castillo. Torre 2 - Piso 14.
Quito, Ecuador
Tel: +593 2 393 0810
Email: info@gvn.com.ec
Website: www.gvn.com.ec
Founded in 2000, ILP Global – Gallegos, Valarezo & Neira is a law firm specialized in providing legal, accounting and consulting services to national and foreign companies. The firm's commitment to offering comprehensive and efficient legal solutions has allowed it to become a prestigious and recognized firm both in Ecuador and abroad.
For ILP Global – Gallegos, Valarezo & Neira an efficient service requires highly qualified professionals, that is why their lawyers, accountants, and consultants constantly participate in training programs to improve their knowledge and professional skills.
Our firm members completed their specializations at prestigious universities in Ecuador, USA, and Europe, including Harvard Business and Law School, George Washington University, University of Salamanca, The Thunderbird School of International Management, Yale University and the Technological Institute of Monterrey, among others.
The firm's main service areas include corporate law, tax law, and tax planning services.