Berger, Pemueller & Asociados
Guatemala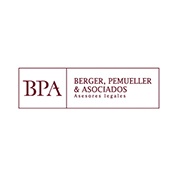 Berger, Pemueller & Asociados
15 Calle 7-77 Zona 10.
Edificio Optima Centro De Negocios.
Oficina 301 Nivel 3. Guatemala.
Tel: +502 2244 1200
Email: bpalaw@bpalaw.net
Website: bergerpemueller.com

Berger, Pemueller & Associates is a law firm characterized by its experience of more than two generations of legal practice and the dynamism and continuous preparation of its well-qualified professionals and efficient staff.
The firm is focused on providing its clients a professional service in all areas of law to satisfy efficiently and competitively the needs of their customers. This is how they have become a facilitating instrument to perform all kinds of business.
Their main objective is to provide their clients the best legal and public notary service within each specific area of practice. Their highly-trained professionals are concentrated in their respective service areas which include: corporate law, estate planning, litigation, intellectual property, banking and finance, real estate and tax.
For their professionals, every client is a priority, for this reason, they take the time to understand their clients' business and their unique situation so the firm can efficiently obtain the best results and provide a responsible and effective service.